Lebanon National Cemetery
Hallowed Ground at Lebanon National Cemetery
Lebanon National Cemetery is 15-acres of natural beauty and reverence. Located at 20 Highway 208, and just outside Lebanon, the Heart of Kentucky, it dates to the Civil War (soldiers who died in the Battle of Perryville are interred here) and remains active.
Lebanon National Cemetery was listed on the National Register of Historic Places in 1975. It is one of only seven national cemeteries in the state of Kentucky, and one of only 134 national cemeteries across the country. Its hallowed grounds are the final resting place for more than 5,600 veterans. 
Approximately 10,000 people visit the Lebanon National Cemetery annually from all over the world. Every single day, people come to the cemetery, even during inclement weather.  Strolling the grounds can be a highly emotional experience. 
The Lebanon Nation Cemetery is open to visitors seven days a week from sunrise to sunset and plenty of parking is available.
Group/bus tour arrangements must be made in advance, and the Lebanon Tourist & Convention Center office staff is available to assist. Call (270) 692-0021. 
To schedule a tour, please contact Lisa Mattingly at (270) 692.3390 
Hours and additional info: Lebanon National Cemetery
Historical Information - Lebanon National Cemetery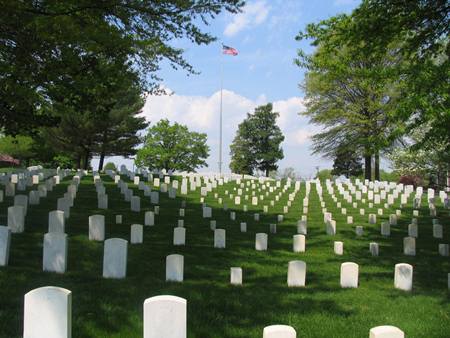 The following is from the National Cemetery Administration.
Lebanon National Cemetery is located on the outskirts of the community of Lebanon in Marion County, Ky. In September 1861, Colonel John M. Harlan from Springfield, Ill., established Camp Crittenden at Lebanon and began recruiting the 10th Kentucky Infantry regiment. From November of that year, Lebanon had become the primary staging center for General George H. Thomas' Mill Spring camp. 
The town remained an important Union supply depot during the Civil War, as well as a major center for Union hospitals. Even after the fighting moved south during the last two years of the war, at least one military hospital continued to operate in town. During the same period, Lebanon was a major recruiting camp for "colored troops." Over 2,053 men were recruited, the overwhelming majority of whom had been slaves in the region.
Official records indicate the U.S. government first obtained the land for the cemetery in 1862, but it was not designated a national cemetery until 1867. The original interments were the scattered remains of Union soldiers from Lebanon and the surrounding countryside. There were 865 total original interments including 281 unknowns. The original triangular tract is bounded by a stonewall and it contains an 1870s lodge occupied by the superintendent and the remains of a rostrum.
In 1984, a donation of 3.4 acres brought the cemetery to 5.8 acres. An additional donation of 9 acres brought the cemetery to its current size. The cemetery was placed on the National Register of Historic Places in 1975.