The Marion County Trail could be the best value in bourbon-themed travel in Kentucky.
With minimal effort you'll experience one of the Kentucky Bourbon Trail's crown jewels; one of the Bourbon Trail Craft Tour's top-rated stops; and something you can't find anywhere else…organized tours of a bourbon barrel manufacturing facility.
All in one place.
It's The Marion County Trail.
And take your time to tour, dine, shop and stay all along the way.
It's an 11-mile ribbon of rural Kentucky road, a section of KY 49 to be exact, that would only take you about 16 minutes of drive time from Loretto to Lebanon. The latter is near the geographical center of Kentucky. That's why Lebanon is promoted as The Heart of Kentucky.
But you're going to want to spend at least two days—and stretch it to more, if you desire.
At one end of the trail: world-famous Maker's Mark, a hot ticket item on the Kentucky Bourbon Trail and a world-class distillery tour destination that includes dining and shopping.
In the middle of the trail: Limestone Branch Distillery, home of world-famous Yellowstone bourbon, and one of the top-rated stops on the Kentucky Bourbon Trail Craft Tour. Its tours are rated as awesome, and includes product sampling.
At the other end in Lebanon is Kentucky Cooperage, the sprawling plant where the thriving bourbon industry's barrels are hand built and seared with fire for bourbon aging flavor.
And guess what: Kentucky Cooperage is one of the few places in the nation with official tours where you can see, first hand, where bourbon barrel are made.
And wrapped around Kentucky Cooperage is Lebanon, the home of wonderful dining opportunities that range from home cooked to chef-driven; unique shopping opportunities; nowhere-else-to-be-found murals for your selfies; and overnight accommodations that range from traditional to bed and breakfast to bourbon-themed.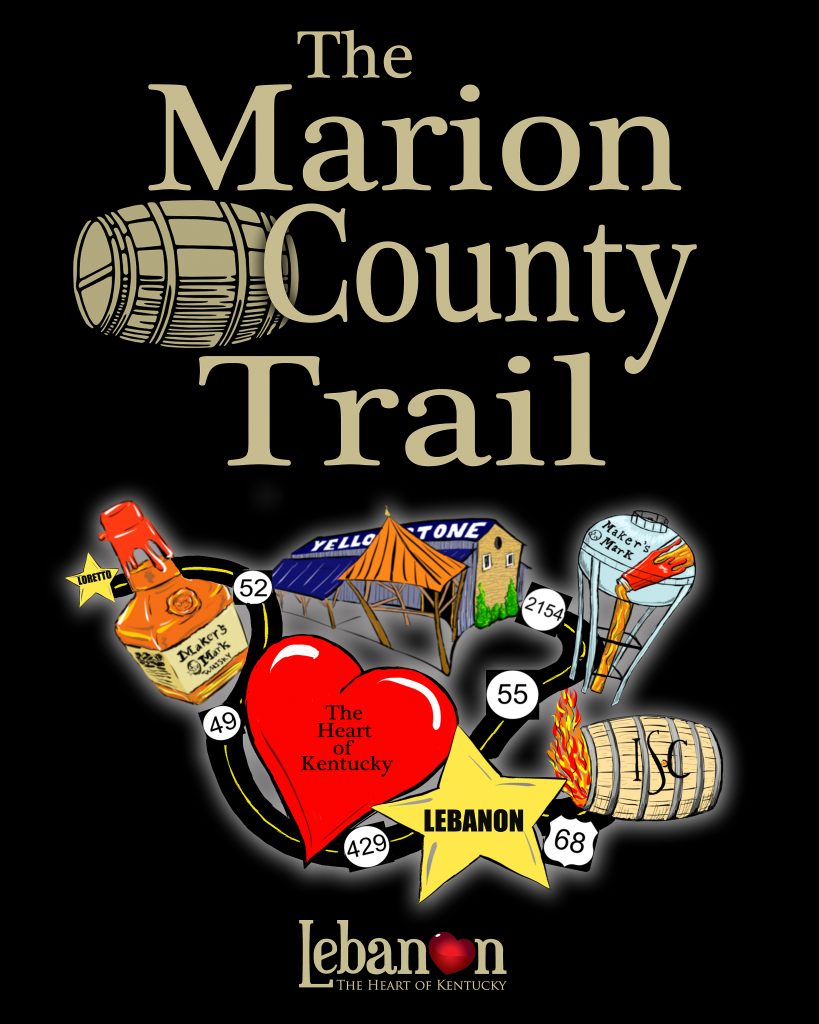 World-famous Maker's Mark Distillery, seeped in rich Samuels family history and color, anchors one end of The Marion County Trail.
Maker's Mark Distillery, located at 3350 Burks Spring Road near Loretto, is a world-class bourbon distillery destination, and graces the highly publicized Kentucky Bourbon Trail.
Tours are offered seven days a week. You can immerse yourself in the bourbon experience, learning about the distilling, barrel and bottling processes of some of the world's most famous bourbons—Maker's Mark, Maker's 46 and more.
Try the Heritage Tour, and be personally guided by some of the biggest names in the bourbon business. Dip your own Maker's Mark red wax bottle, see where the labels are printed on an antique press, take an in-depth class where you'll learn about the distilling experience.
Maker's Mark now offers its onsite dining experience, in the chef-driven Star Hill Provisions. And you can shop 'til your heart's delight in the Maker's Mark Gift Shop.
CONTACT AND LEARN MORE: WWW.MAKERSMARK.COM IS AN EXCELLENT WEBSITE WHERE YOU CAN LEARN MORE, BOOK TOUR TICKETS ONLINE, SEE SCHEDULED EVENTS, BOOK DINING RESERVATIONS, SHOP THE GIFT SHOP ONLINE AND MORE. YOU MAY ALSO CALL THE VISITOR'S CENTER AT 270.865.2099.
Limestone Branch Distillery
The anchor in the middle of Marion County Trail…another dynamic name: Beam.
Brothers Steve and Paul Beam built Limestone Branch Distillery and fulfilled their dream of restoring an historic bourbon brand, Yellowstone, back into the family fold, and back to top shelf placement.
Limestone Branch Distillery, located at 1280 Veterans Memorial Highway, on the Lebanon bypass, is one of the most highly rated stops on the Kentucky Bourbon Trail Craft Tour.
Why? Primarily for two reasons.
First, the tours, which are often led by master bourbon representative Stephen Fante or Limestone Distiller Steve Beam himself. The tours are so personalized, and so seeped in history and colorful stories, visitors are left feeling like family.
The tours are as personal and hands-on as it gets.
Tours are offered every day of the week.
Second, Limestone's distilled products are world renown, revered, and have a fierce following within the bourbon aficionado community. There's the revived brand tied to the Beam family name, Yellowstone.  There's also Minor Case Straight Rye Whiskey, groundbreaking for its taste as well as its art bottle and label.
In addition to the tours, you can also shop in Limestone's excellent gift shop.
In addition to that, the facility is capable of handling your group event, inside and outside, complete with outdoor fireplaces and lakeside experiences.
THE BEST WAY TO LEARN ABOUT ALL THE LIMESTONE PRODUCTS, DISTILLERY HISTORY, TOUR TIMES AND MORE IS TO GO TO THE EXCELLENT WEBSITE: WWW.LIMESTONEBRANCH.COM. OR YOU MAY CALL THE DISTILLERY AT 270.699.9004. IF YOU'RE WANTING TO PLAN AN EVENT OR GROUP TOUR AT THE DISTILLERY, ASK FOR EVENT COORDINATOR JENNIFER SPALDING.
Now here's an experience you just can't get anywhere else.
Anchoring the Marion County Trail, on the opposite end from Maker's Mark, is Kentucky Cooperage, a subsidiary of Independent Stave Company.
Independent Stave Company is an industry giant built by the pioneering Boswell family, and current Boswell generations continue the amazing innovations and expansion of the company. Since 1912, four generations of the Boswell family have used quality standards to build a company that makes cooperage products for the world's finest spirits.
Know as ISC, its Kentucky Cooperage in Lebanon is the sprawling plant where the thriving bourbon industry's barrels are hand built and seared with fire—the industry term is "charred"— for aging flavor. Kentucky Cooperage is located at 712 Main. St. in Lebanon.
The Lebanon cooperage is where craftsmen—and craftswomen—make the barrels for the bourbon industry. And yes, you can take a tour that puts you in the thick of it.
And get ready for one of the best bourbon immersion experiences available: You'll be issued hearing and eye protection by your tour guide before you head in to where you'll see the flames, smoke and sweat it takes to build a bourbon barrel.
Tours are available Monday through Friday, and demand is huge. That's why it's recommended you purchase your tickets online, in advance, although it is possible to buy tickets upon arrival.
By purchasing your tickets in advance online you're assured of the time and day you prefer. Tours do sell out, and you're taking a bit of a chance by waiting to purchase tickets upon arrival.
TO BOOK YOUR KENTUCKY COOPERAGE TOUR TICKET ONLINE, GO TO WWW.ISCBARRELS.COM, AND THEN CLICK ON THE ORANGE "TOURS" BUTTON.