Airbnb & Vacation Rentals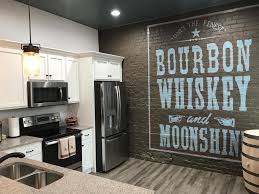 101 ½ W. Main St. 
Lebanon, KY 40033
www.spiritonmain.com
Phone (270) 402-3958
Located on Main Street, Spirit on Main is in the heart of downtown Lebanon. The location is in the middle of all the downtown shopping, dining and local activities. This is also the prime location for visiting all of your favorite bourbon spots. Whether it's a couples getaway, trip with friends or business-related, Spirit on Main will be your home away from home.
This spacious suite for up to 6 people includes full kitchen, stainless steel appliances, washer and dryer, free Wi-Fi, flat screen television. When booking with Spirit on Main you will receive complimentary breakfast certificates to local restaurants as well as complimentary tickets to a tour of the Kentucky Cooperage.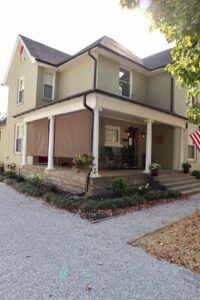 319 S. Proctor Knott Ave. 
Lebanon, KY 40033
Airbnb Here
Phone (270) 402-3958
Knott on Main is a beautiful, historic home in the Heart of Kentucky. This is the perfects spot for a trip with friends, wedding parties or even business trips. This location is packed with all the best amenities, including: Three bedrooms, 2 bathrooms, Game Room, Full Kitchen, All stainless steel appliances, Flat Screen TV's in the living room and in the game room, Washer and Dryer, Free Wifi. The location is within walking distance of Main Street in Lebanon as well as the beautiful Graham Memorial Park.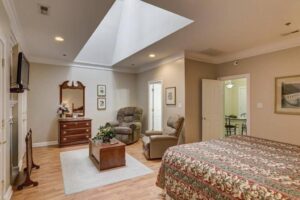 255 W. Main Street 
Lebanon, KY 40033
Phone (270) 692-6663 or (859) 481-1073
Located in the heart of historic downtown Lebanon. This establishment has everything you need for a pleasant and comfortable stay. While staying there take a stroll Main Street to visit local businesses for dining and shopping and entertainment. If bourbon is your thing, this airbnb is in the heart of the Bourbon Trail. Maker's Mark, Limestone Branch and Kentucky Cooperage are all just a short drive away.
Here at this home-away-from-home you will find great amenities such as king size bedrooms, large dens with vaulted ceilings, fully equipped kitchens. Free Wi-Fi, washer and dryer, televisions, and fitness center with sauna and tanning beds located downstairs.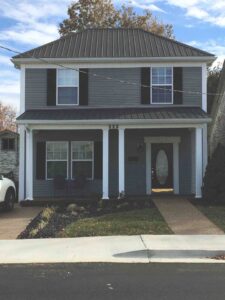 222 West Mulberry Street Lebanon, KY 40033 Phone (270) 692-7217 or (270) 692-8650
Airbnb Page
Beautiful home in downtown Lebanon, and a prime location for visiting many locations on the Bourbon Trail or the Lincoln Heritage Trail. 60 miles from Louisville or Lexington and only 15 miles from Historic Makers Mark Distillery.
The space
Just like home. This is what a lot of our guest have described their stay at the downtown abode. Imagine after a long day of travel and enjoying the Bourbon Trail ; you come home and have steaks cooking on the grill and potatoes cooking in the oven. The ladies sitting around the dining room table sipping on a glass of wine and the men sitting in comfortable recliners sipping on their favorite bourbon and watching a ballgame on TV. With the open concept floor plan everyone is together and enjoying each other's company. When it's time to go to bed you can snuggle with your loved one in a large comfortable bed. What more could you ask for?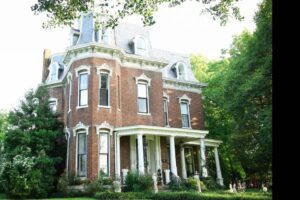 421 West Main Street Lebanon, KY 40033 Phone (270) 402-1135
Airbnb Page
Enjoy your stay in this stunning 160 year old home. You can admire and appreciate the Italianate architecture while having the comfort of modern amenities. Located in the heart of Kentucky,  this place is perfect for families, couples or individuals on business.
The first level has a kitchen, laundry room, sunroom with a daybed and trundle bed, dining room and full bath. The second level has another full bath. The third level has a great room with a futon and a sofa and 2 guest rooms with full beds.
The front lower level of the house is used as a wedding business and is closed off to guests. This business is open by appointment only and it is rare to be there at the same time as guests. If you would like a tour of the remaining space please just let them know and they are happy to let you in and show you around!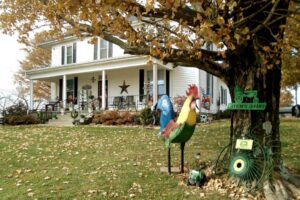 2355 Barbers Mill Rd. Lebanon, KY 40033 Phone (270) 692-7776
Airbnb Page
This home is on a 3rd generation family farm. The decor is all country related and most is original to the house. It was a dairy farm until recently, but now they raise beef cattle which you can see grazing from the front or back porch. It's still actively worked so you see someone on a tractor doing something almost every day. Lebanon is located in the heart of KY and within 30 minutes of various distilleries along the Bourbon Trail. This location is 15 minutes from the famous Maker's Mark Distillery and only 5-10 minutes from Limestone Branch Distillery.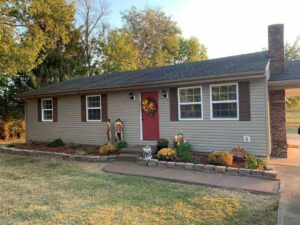 166 Cemetery Rd. Lebanon, KY 40033 Phone (270) 402-7824 3 bedroom 1 and a half bath house. For more info or to book this property check out their Airbnb page here
Airbnb Page
Til the Rooster Crows Ranch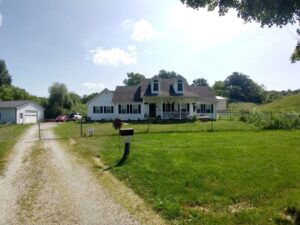 835 Bob Curtis Rd. Bradfordsville, KY 40009
Airbnb Here
Phone (516) 241-7960
Stay at this working farm/homestead, where breakfast is included using farm fresh eggs and seasonal ingredients. Guests have a secluded second floor: private bathroom (if a larger group there are extra guest rooms and bathrooms) Close to the Bourbon Trail, but a quiet country location: Makers Mark, Limestone Branch & Jester Winery only 25 minutes away and 35 minutes for state parks: 20 minute short drive to Lebanon or Perryville, 60 min to Lexington or Louisville, 23 to historic battle of Perryville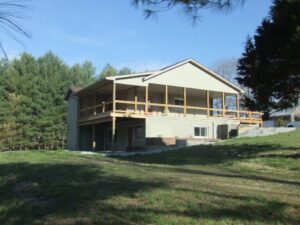 645 Marlowe Ln. Bradfordsville, KY 40009
Phone (859) 619-5052
Airbnb Here
You are in the middle of a 2500 acre farm surrounded by knob woodland. A perfect get away for family and friends. Wide open space with no neighbors except wildlife. Cross a very small creek and onto a gravel driveway to get to your "tucked away" retreat. Sit by the fire pit and enjoy star gazing. Come explore farm living at its best.Imagine yourself sitting on the porch with your cup of coffee looking out at white tail deer grazing in the morning. Take a hike on one of the many trails right outside your door. Trek the bourbon trail, historic churches and landmarks of Lebanon. You may just want to relax and enjoy farm living at its best. What ever you want you will find it here on the farm. Lebanon is 7 miles away with Makers Mark, KY cooperage, Limestone Branch, shops, and restaurants.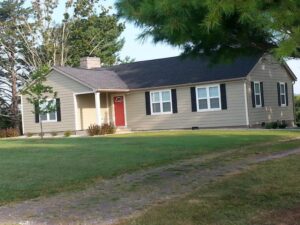 1280 Mannsville Rd. Bradfordsville, KY 40009
Phone (859) 619-5052
Airbnb Here
This cozy cottage is located on a beautiful farm filled with warmth and charm. If you are looking to get away and enjoy peace and quiet you have found the place. Come and relax in the country. Find yourself in the middle of the bourbon trail on a beautiful 2500 acre farm surrounded by knob land and rolling pastures.Take a hike on one of the many trails right outside your door. Trek the bourbon trail, historic churches and landmarks of Lebanon. You may just want to relax and enjoy farm living at its best. What ever you want you will find it here on the farm. Lebanon is 7 miles away with Makers Mark, KY cooperage, Limestone Branch, shops, and restaurant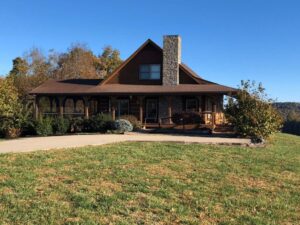 Arbuckle Creek Rd. Lebanon, KY 40033
Airbnb Here
This four bedroom/3 bath Lincoln Log-style cabin amongst the hills of Lebanon, Ky was built in 2006 and sits on 55 acres. Fully equipped with scenic 360 views and modern comforts for a relaxing weekend away… It only needs you! ACR is a true escape from the city. Located up a quarter mile private gravel drive, a secluded, wooded lot. Just you and the wildlife. It's newly remodeled and furnished with love & relaxation in mind for you to enjoy. 
Arbuckle Creek Retreat has been everyone's favorite place to gather for family reunions, birthdays, holiday visits or vacations. So much life and good times have been lived in this cabin. The ultimate favorite place to hang out at the cabin is the front porch. Nothing beats starting the day watching a sunrise from the front porch with a hot cup of coffee or tea. The colors are beyond description and they change constantly till the sun tops the distant ridge. From the front porch you could watch a rain shower come over the distant ridge, roll down into the valley, and as the rain moved across the valley, the far off ridge would clear. You could watch the rain come across the valley, right up the cabin's hill and pass right on over it. Nature is on full display from this front porch. If the sun is too warm on the front porch, the large screened back porch is the second best place this cabin has to offer. This screened porch looks onto acres of woods where many hours have been spent visiting with family and friends, talking about what is happening in the family or the news, taking naps on the daybed, eating so many meals, and just reading a book. Though the inside of the cabin is wonderful, nothing beats the porches and views of this lovely cabin.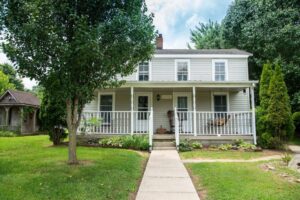 Fogle Rd. Loretto, KY 40037
Airbnb Here
Greenhaven Farm features a cozy and rustic farmhouse on 58 scenic acres. This serene getaway (which has been in the Green family for over 75 years) allows you to escape outside distractions while still staying within 15-20 minutes of Lebanon and several of the country's top bourbon producers .The farm allows guests the flexibility of an intimate visit while still offering enough space to entertain a small group. The farmhouse has 2 bedrooms with queen-size beds in addition to a sleeping loft with a full size bed plus 2 twin beds. The eat-in kitchen offers all of the modern conveniences — stove, microwave, dishwasher and refrigerator. The spacious bathroom has lots of room with a separate shower and garden tub. For outside enjoyment, the back deck, gas grill and fire pit are all available for guests to use.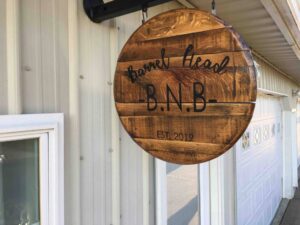 State Hwy. 52 Loretto, KY 40037
Airbnb Here
The Barrel Head is located directly in the middle of the Bourbon Trail. Maker's Mark Distillery is a quick 3 minute drive away, and the 5 star rated Limestone Branch Distillery is 10 minutes away. Jester's Winery and Cafe is also right down the road from the bed and breakfast. You will also find a surplus of other distillery's located 30 miles or less from this location. Upon your arrival you will find a binder full of distilleries and activities that you can partake in during your stay. This location has been newly remodeled and furnished, a brand new queen size bed, pull out sofa, and a coffee bar ensure that you are getting the sleep and energy that you need during your stay.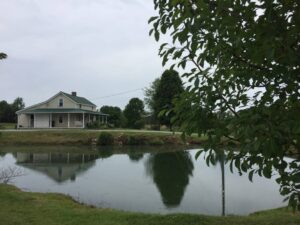 367 Ed Cecil Rd. Raywick, KY 40060
Phone (270) 699-0779
Airbnb Here
The Olde Farmhouse is secluded on 5.8 acres and is on the historic Bourbon Trail. The house has a master on the main floor with a queen bed connected to the bathroom. There is an upstairs sleeping space that accommodates one queen bed and two twin beds. Beautiful wrap around porch for your morning coffee enjoyment or evening relaxation. All that can be heard on this property are crickets and frogs with lovely sunsets. The farmhouse is within driving distance of several wonderful sights and activities. There are many distilleries to tour as well as Mammoth Caves, Green River Lake, Lincoln's Birthplace and childhood home plus many more activities as listed in a notebook on property.